These logos were created for a local book club looking to create an identity. I worked with the client to determine a final mystical and magical look for the brand and created three different logos to use on potential future merchandise.
Focus for Logos:
- Creating a brand identity that aligned with the magical nature of the literature being read in the book club.
- Keeping the design clean and monochrome, to be easily produced on a variety of merchandise.
- Designing custom handmade fonts to use in the logos to create a natural feel to the brand.
I design responsive and easily customizable email templates at Reynolds and Reynolds. These templates are then used by the the marketing division to send out their monthly launches. These emails end up being sent out as email marketing campaigns for over 800 car dealerships nation-wide.
Focus for Email:
- Keeping the design responsive for mobile view.
- Designing templates to stay in line with market trends and branding standards.
- Designing templates to be easily changed for quick customization.
- Creating custom imagery to keep templates fresh and up-to-date.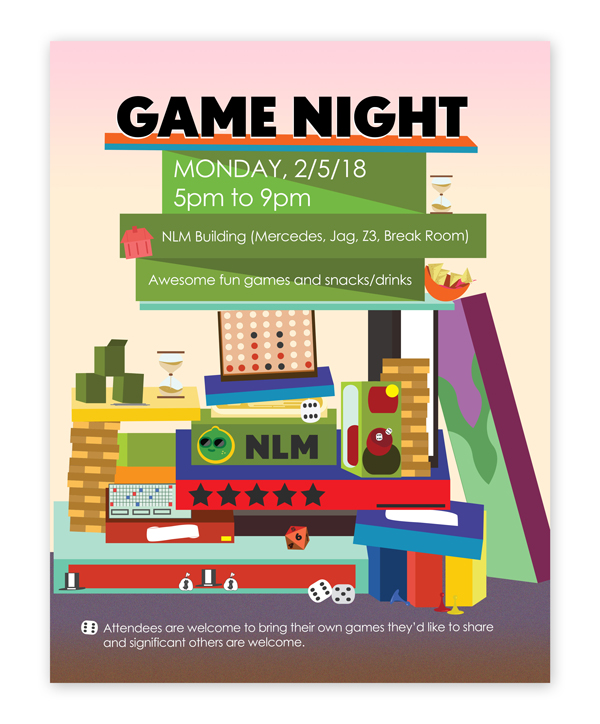 Illustration/ Poster Design
These designs were created for a board game group that were in need for posters for their quarterly events. I designed for two separate posters for the group.
Focus for Posters:
- Highlighting their different motives for the separate events (Bring your own board game night; bring old-school board games).
- Keeping the themes fun and colorful.
- Creating custom vector graphics to recreate poster in email formats.